So, you've booked your makeup artist, finalized the guest list, secured your dream wedding site, and purchased the bridal trunk you've been coveting for months (phew). The only thing left to do is treat yourself to a stress-free spa day (goodbye, stress) and select a stunning manicure to complete your look on your wedding day; however, we aren't referring to the standard nail paints that you have worn every day of your life. With lovely bridal nail art, you may complement your outfit and have the perfect wedding nails. Think gorgeous gold-traced tips, tiny floral patterns, chic glitter nails, or even decorated nails with mylar that are everything from ordinary.
You're lucky because there are several bridal nail art designs available, each one customized for a specific type of bride. We have compiled some stunning wedding nail art that will go with your various wedding looks and themes to make your life easier. Ready for some chic wedding nail inspiration? Check out the lovely bridal nail art ideas below.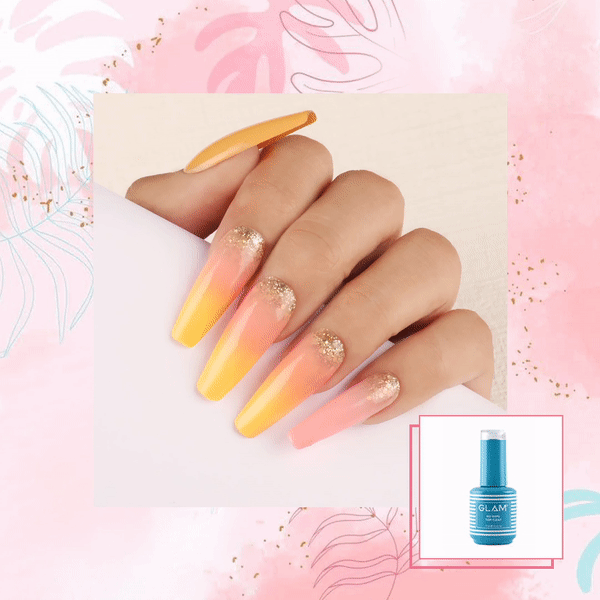 Pastel ombre nails are fiery and fierce, signaling passion and stopping people in their tracks! Any way you combine this distinctive color looks fantastic. With its sunny and youthful aspect, this Ombre combination from lemon to saffron is likely to be appealing. You can leave the house looking as fresh as a daisy if you put together a cute outfit!
1. Apply Glam Yellow and Glam Pink Gel Polish on the fingertips.
2. Blend the polishes together with Glam Ombre Brush.
3. Apply some Glam Glitter Powder near the cuticle line of the fingertips with Gel Brush.
4. Seal the entire piece with Glam Top Coat.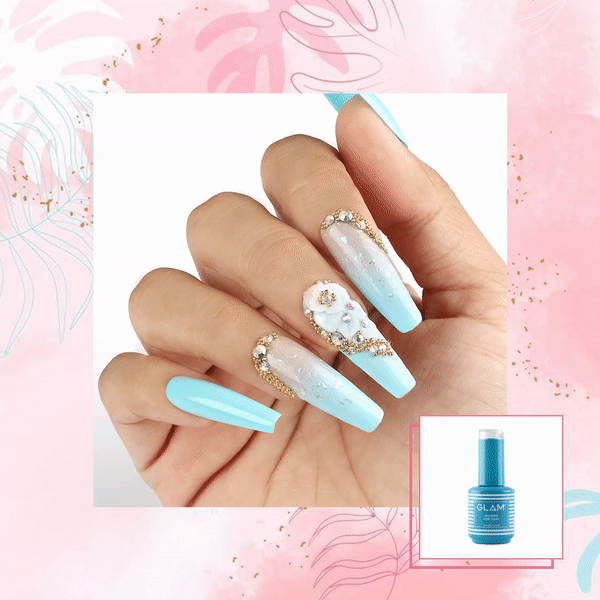 2. The Frozen Themed Nails
It only makes sense to select bridal nail art that is both elegant and understated if your wedding attire is made up of delicate tulles and soft colors. This nail art design that combines blue and nude tones for a dreamlike effect. Additionally, you may use this for a joyful daytime wedding.
1. Apply Glam Blue and Glam Nude Gel Polish on the fingertips.
2. Blend the polishes together with Glam Ombre Brush.
3. Take some 5D Gel and create floral design on the nail.
4. Paste some Chains and Swarovski Stones using Décor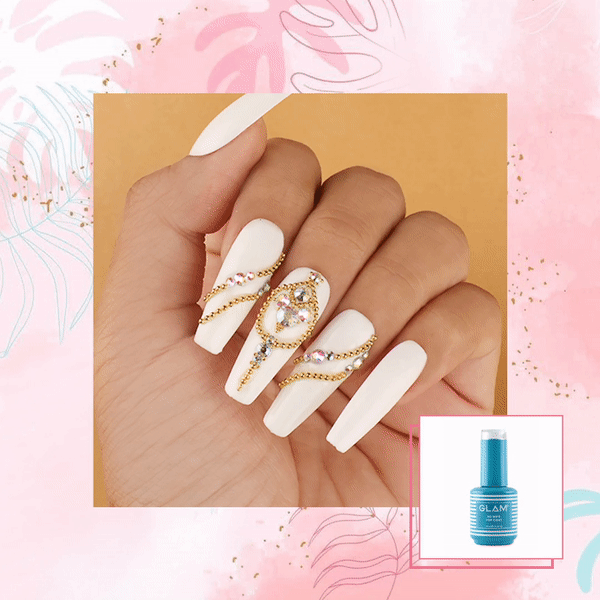 The traditional white-based manicure is exactly what your beautician ordered if elaborately embellished nails are more your style. However, to create an understated statement, we advise adding some interest to your wedding nail art in the form of unique components like some sparkling stones or chains.
1. Use Glam White Gel Polish on the base of the nails evenly.
2. Fix Chains on the nails with Décor Gel.
3. Embellish the nail design with Glam Swarovski Stones using Décor Gel.
4. Finish off the nail art with applying Glam Top Coat.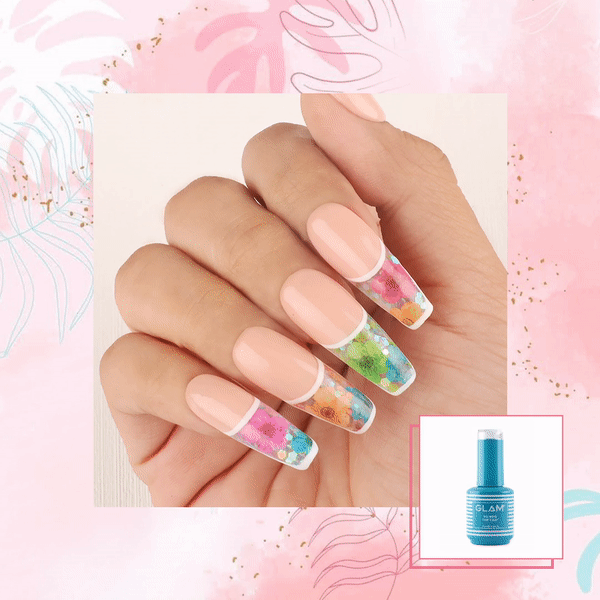 Nothing makes your tips appear more extravagant than beautiful flowers. Plus, nothing else compares to how well these colors go with your outfit. For this distinctive French Manicure, you may also choose something simple like colored flowers to give it a little extra punch. Choose elegant floral nails to add a special flare to your evening.
1. Apply Glam Nude Gel Polish on your fingertips.
2. Create a Smile Line with Glam White Gel Polish using Detailing Brush.
3. Paste 5 Petals flowers on the edges of the fingertips.
4. Add a little spark with sticking some Mylars on the edges of the nails.
5. Top off your nail art with Glam Top Coat.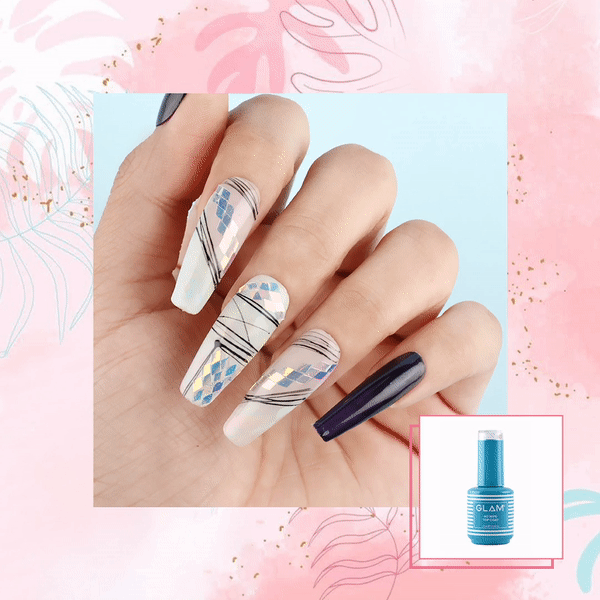 We advise choosing bridal nail art designs that have meaning if you enjoy trying out new products and looks on a daily basis. Think of something striking, glittery, and beautiful that expresses exactly what's on your mind. We currently adore this spider webbed design with Mylars because it is the epitome of the phrase "a picture is worth a thousand words."
1. Apply Glam Grey Gel Polish and Glam Black Gel Polish on your fingertips.
2. Create Lines with Glam Black Spider Gel using Detailing Brush.
3. Add some glitz factor by sticking some Mylars on the nails.
4. Finish off your nail art with Glam Top Coat.
GLAM is whole line of professional product for nails includes nail polishes, gel polishes, lacquers, treatments, finishing products, products for manicures and pedicures, files, equipment, acrylics, etc. and it is also best nail art shop in Mumbai. We are biggest wholesale nail polish suppliers and as well as wholesale nail salon suppliers.