Introduction:
Summer is the perfect time to experiment with fun and vibrant nail art designs. Whether you're heading to the beach, attending a summer party, or simply want to add a pop of color to your everyday look, Glam Nail Products has got you covered. In this blog, we'll explore the essential nail art supplies offered by Glam Nail Products that will help you achieve stunning summer nails.
1. Nail Tips: Quality and Comfort at Your Fingertips
Glam Nail Products' nail tips are crafted with high-quality ABS material, ensuring durability and a natural look. These soft and comfortable nail tips have no sharp edges, providing a hassle-free experience during application. With a range of sizes and shapes available, you can easily find the perfect fit for your nails, allowing you to create stunning nail extensions or enhance your natural nail length.
2. No Wipe Top Coat: Unleash the Shine
For that extra touch of glamour, Glam Nail Products' No Wipe Top Coat is a must-have. This top coat provides an extreme shine that lasts, leaving your nails with a glossy finish. Its smudge-free formula ensures your nail art stays intact, even after application of gel polish. Say goodbye to worrying about smudging your beautiful nail designs and enjoy long-lasting, high-shine nails all summer long.
3. Cuticle Remover: Smooth and Tidy Cuticles
Preparing your nails for the perfect summer look is made easy with Glam Nail Products' Cuticle Remover. This handy tool effectively removes dry skin around the cuticles, giving your nails a clean and tidy appearance. With its gentle formula, the cuticle remover softens the skin, making it easy to push back and maintain healthy cuticles. Get ready to show off your flawless manicure without worrying about unsightly cuticles.
4. Smoothie Cat Eye Gel Polishes:Mesmerizing and Iridescent
Create an enchanting summer nail look with Glam Nail Products' Smoothie Cat Eye Gel Polishes. These unique gel polishes offer a mesmerizing cat eye effect with an iridescent shine. The smudge-proof formula ensures your nail art stays flawless and eye-catching throughout the summer. Choose from a variety of stunning shades that will make your nails stand out and capture the essence of the season.
5. LED Lamp 6.0: Efficient and Portable
Achieving salon-quality nails at home is made convenient with Glam Nail Products' LED Lamp 6.0. This portable and lightweight lamp delivers 48 watts of power, ensuring quick and efficient curing of gel polishes. The 30/60/90 seconds timer display allows you to customize the curing time according to your needs. Say hello to beautifully cured nails that will last throughout all your summer adventures.
6. Nail Buffers: The Perfect Finish
To achieve a smooth and flawless nail surface, Glam Nail Products offers a range of high-quality nail buffers. These buffers effectively remove shine from the nails, allowing for better adhesion of nail products. The buffers come in various grit sizes, catering to different needs and nail types. With their comfortable grip and gentle yet effective performance, these nail buffers ensure a professional finish every time.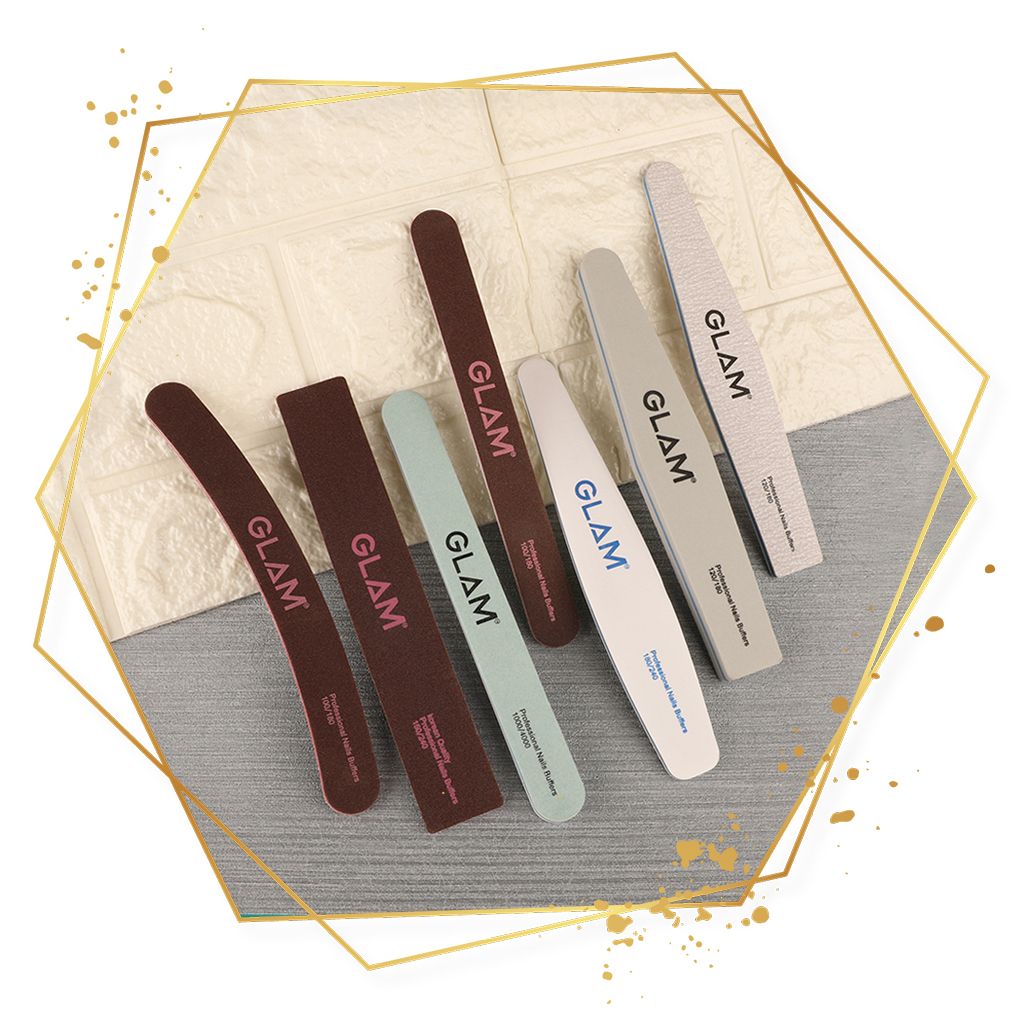 Conclusion:
With Glam Nail Products' extensive range of high-quality supplies, you can effortlessly create stunning summer nail art designs. From the durable and comfortable nail tips to the mesmerizing cat eye gel polishes, each product is designed to enhance your nail art experience. The no wipe top coat ensures a long-lasting shine, while the cuticle remover and nail buffers provide the perfect canvas for your creative expression. With the LED Lamp 6.0, you can achieve salon-quality nails right at home. Embrace the summer vibes and glam up your nails