When it comes to your wedding day, every detail counts, and your nails are no exception. Bridal nail art has evolved beyond classic French tips and traditional reds. Today, brides are experimenting with a wide range of trendy designs to add a touch of personal style to their wedding look. If you're looking for some nail art inspiration to complete your bridal ensemble, you're in the right place. Let's explore five trendy bridal nail art designs that will help you walk down the aisle with style.
French nude bliss with glistening stones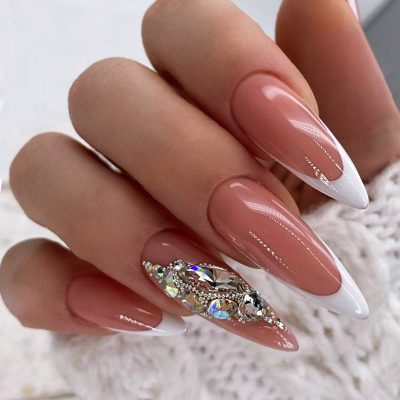 The classic French manicure gets a modern twist with nude-colored nails adorned with delicate stones. This design adds a touch of elegance and sophistication to your bridal look. The combination of subtle nude tones and glimmering stones can complement any wedding gown, making it a timeless choice for brides who appreciate understated beauty.
Jewellery inspired delight for bold bride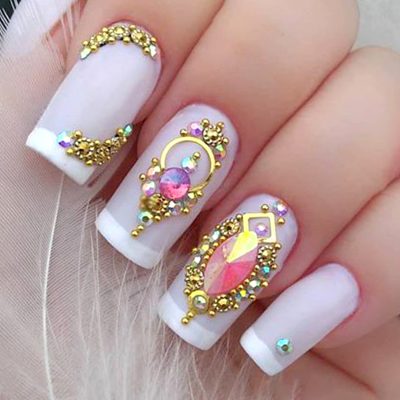 Grey nails might not be the first color that comes to mind for brides, but it's a chic and unconventional choice. A grey based French manicure with intricate jewelry-inspired designs can be a striking and unique addition to your bridal look. The subtle contrast of grey and silver or gold accents can create a captivating and stylish nail design.
Gleaming hue for every smile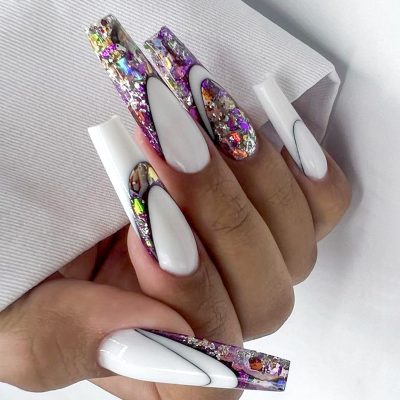 For brides who want to add a pop of color to their nails, a French manicure with colorful glitter can be a fantastic choice. You can select colors that match your wedding theme or simply choose your favorite shades. The glittery French tips add a fun and vibrant element to your overall appearance, making your nails a delightful focal point.
Swarovski stones on off white canvas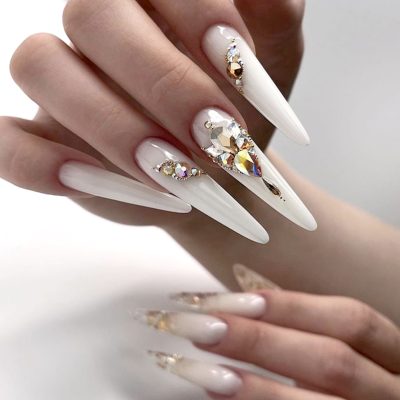 If you prefer a softer, more bridal-inspired nail art design, consider an off-white or ivory base adorned with Swarovski crystals. Swarovski stones add a touch of luxury and sparkle to your nails, making them perfect for a bride who wants to shine on her special day. These stones create a stunning and sophisticated look that's sure to catch the light beautifully.
Modern marble with shimmering mylars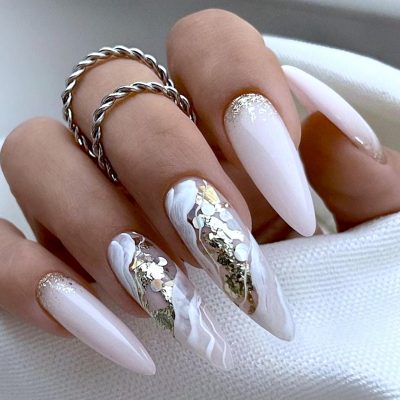 Marble nail art is a hot trend, and it can be a beautiful addition to your bridal look. Opt for a white marble base with subtle mylars (thin, shiny foil pieces) and glitter accents. This design exudes a modern and chic vibe, making it an excellent choice for brides who want a contemporary and stylish nail art option.
Incorporating these trendy bridal nail art designs into your wedding day look can add a personal and fashionable touch to your ensemble. Remember to consult with a professional nail artist to ensure the designs align with your wedding theme and personal style. Whether you choose a classic French-inspired design or opt for something more unique and colorful, your bridal nails should reflect your personality and make you feel confident and beautiful as you walk down the aisle. After all, it's your special day, and your nails should be as unforgettable as the rest of your bridal look.