Have you ever caught sight of someone's perfectly manicured nails while scrolling through Instagram or watching a YouTube video? You may have thought about how gorgeous the color appears or how beautiful the design is. Its true that nails are an extension of the hand, and they make a statement about a person's appearance as a whole. It completes your fashion statement, gives you a polished appearance, and radiates your personality. There is no end for nail designs because they  come in a wide variety of colors, patterns, and concepts. Do you feel like visiting the nail salon? Here are seven choices for nail art designs: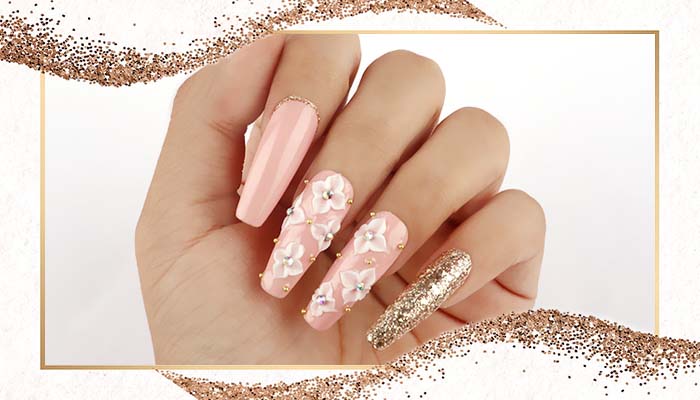 A fresh nail art craze is starting to emerge that is quite literally raising the bar—or at the very least, the height—of your manicure. The fad for 3D Manis started, as with many of our favorite weird and fantastic aesthetic improvements, is constantly spreading around the world and onto the hands of some of our favorite celebrities. For a little more spice, the nail art incorporates 3D elements like squiggles, flowers, water droplets, and even gummy bears and little cartoon figures. Therefore, we came up with a simple yet fashionable nail art that you can use for any occasion. This makes you stand out in the crowd because the floral pattern goes with many of your outfits.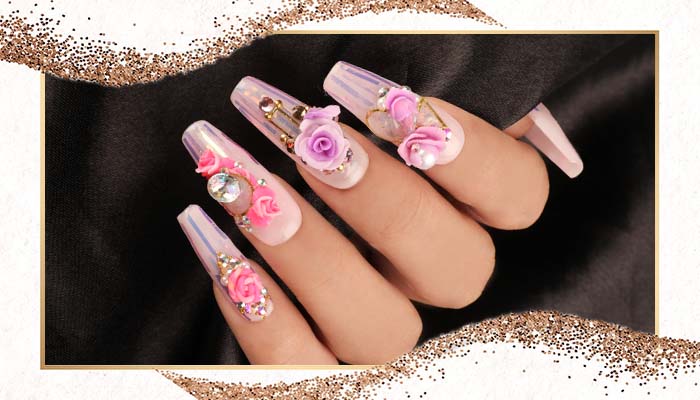 Use your favorite clothing's tweed, plaid, or floral designs as inspiration for your nails. On your favorite clothing, do you like prints? To see if your nail technician can replicate the appearance, take a picture of it. It's a good way to spice up your life. Your nails will look great and be in style with 5D nails. This nail art design was heavily influenced by the celebrities who set the fashion in the nail industry. Here's a quick tip you can change the design by putting different stones or nail accessories it to make it more attractive and stylish.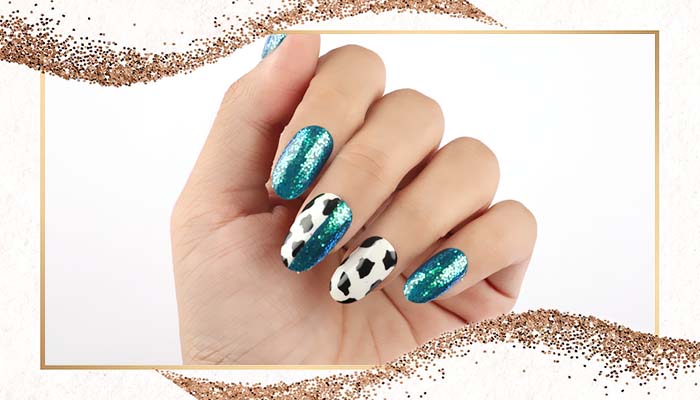 Glitter Chrome Nail Art is the ideal option for every season among the many alternatives when selecting a design for your upcoming manicure. The current chrome nail style is perfect for the next season even though pastels and brilliant hues are traditionally associated with spring. This nail trend is for every occasion. There is nothing about this design that is uncharismatic. It's bright, easy, vibrant, and just plain adorable. This unusual cow print in white and black is beautiful. You might pair your gold attire with this look for a grand event or for a casual one.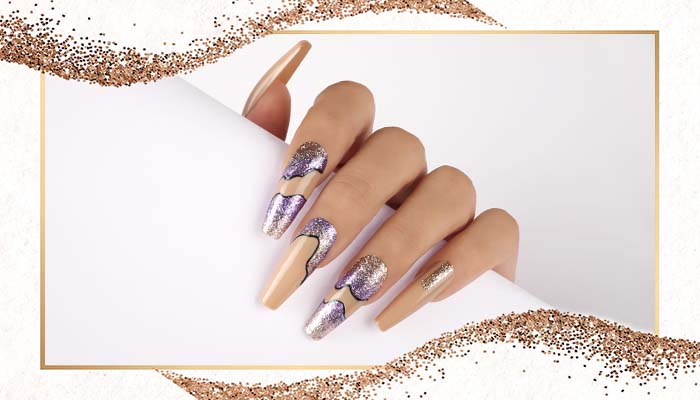 New nail art always gets us excited, especially when glitter is involved. Glitter is for grown-ups, and don't let anyone tell you otherwise. You did hear it here first. It offers your hands this undeniable wow factor when applied on your nails. Glitter nails will always have a place in our hearts and on our Instagram feeds, whether it's a tiny hint of sparkle or a full-on bedazzlement. Consequently, you'll discover this sophisticated glitter nail design you'll want to copy below, whether you're thinking about your holiday manicure or are in the need for a little more sparkle. So, take a screenshot, and bring this to your upcoming nail appointment.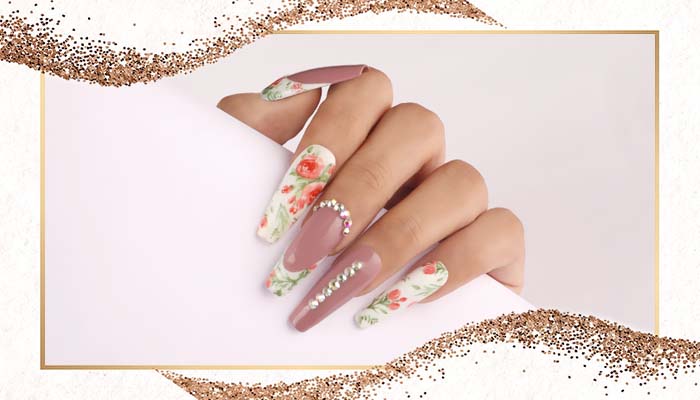 Combining flowery prints with sparkling stones has grown to be seen as a fashion statement. Pair the colors together with printing foils on your nails to make the spring-inspired manicure stand out a little more. Then, add some basic, tiny dazzling nail decorations or stones to round off the exquisite and trendy look. When getting your next manicure, choose the Printing Foil Set tip to get the best of both the traditional and modern nail worlds. The overall artistic nail stone will increase the party atmosphere as well.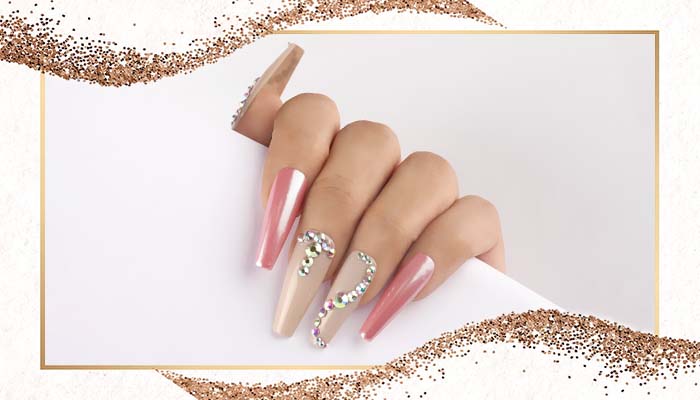 Nail art is a unique technique to paint, adorn, and beautify nails. To glam things up, nail polish has evolved into a variety of additional varieties, including cracked, glitter, flake, speckled, iridescent, and holographic. The most recent development in personal grooming is the use of Swarovski stones, which empowers women to express their individuality via fashion and style. Your neatly painted nails' blingy and sparkling stones can give your hands and entire outfit more charisma and oomph.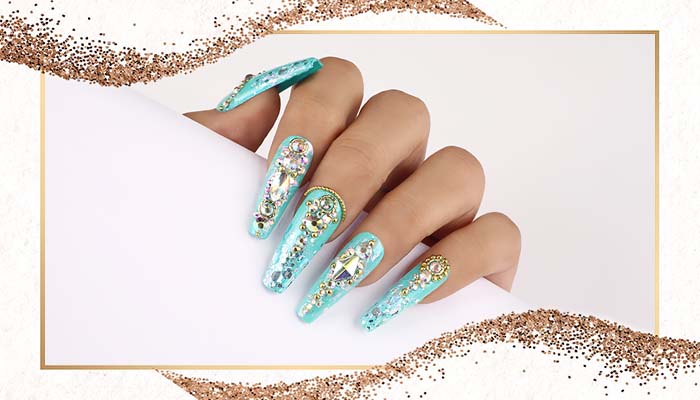 Glitter, festivities, shimmers, and dressing up are all big in the nail world, W hen choosing your attire, accessories, and jewelry for any event. You definitely don't want to skip the opportunity to enhance the festive look with some fantastic nail art designs. Your manicure should have a festival-season vibe that captures the glitz, glamour, and excitement of the season. Then, you may undoubtedly select some jewelry for your nail art. When you enter a crowd, this nail art design might grab people's attention right away. These manicure accessories provide nails a captivating and attractive appearance.