Enjoy the rainy weather? Why merely observe it through your window? Wear your love on your nails in this instance instead on your sleeves, as we would advise! People are using rain as inspiration for their easy nail art design in a playful trend, and it's everything cool. The outfit definitely brightens the gloomy day, and we know you'll want to wear it on your Zoom call as well. For instance, Aqua nails are currently in style, and monsoon easy nail art design is highly popular. People are drawn to the aqua look produced by placing water drops in the nail layers and covering them with gel. Since rainbows are a symbol of happiness and hope, smaller rainbow motifs are also popular. An alternative that is more edgy is zigzag lightning on plain nails, radium, or brilliant yellow bolts on grey nails. Choose French tips with an umbrella theme in white or pink, which are very popular right now, for a refined, modest appearance.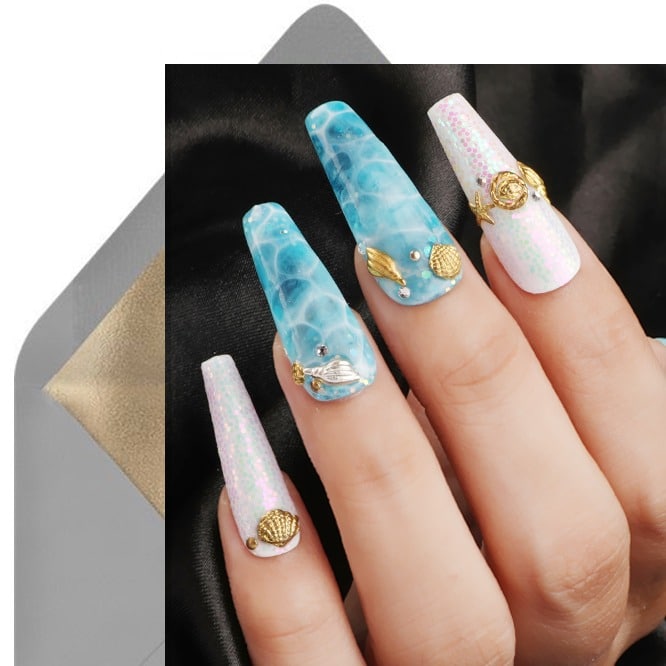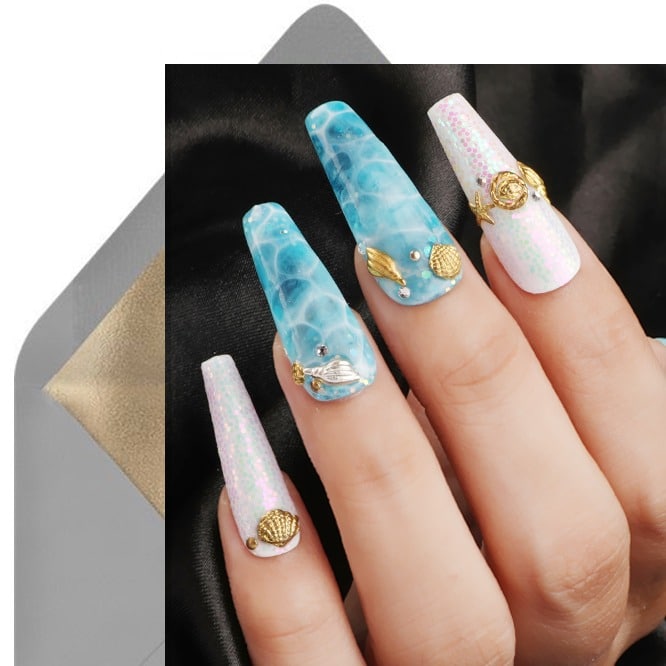 Seashell and Mermaid Nails
Nail trends have developed quickly as social media platforms continue to transform how we share images and ideas. Mermaid nails, which mimic the pattern of a mermaid's tail scales to give some fun design and style to your nails, have become a highly popular trend. Although mermaid nails are very popular among women in particular, everyone can express themselves whatever they like in today's technologically advanced society. These blue glittering nails, which are a gorgeously captivating teal and pale white combo, are the ideal flash of color to go with a shiny outfit for a fun night out with your girls. Just a tiny dab of vibrant glitter, like the kind you see above, may transform your appearance by adding a splash of vitality and emulating a carefree, young vibe.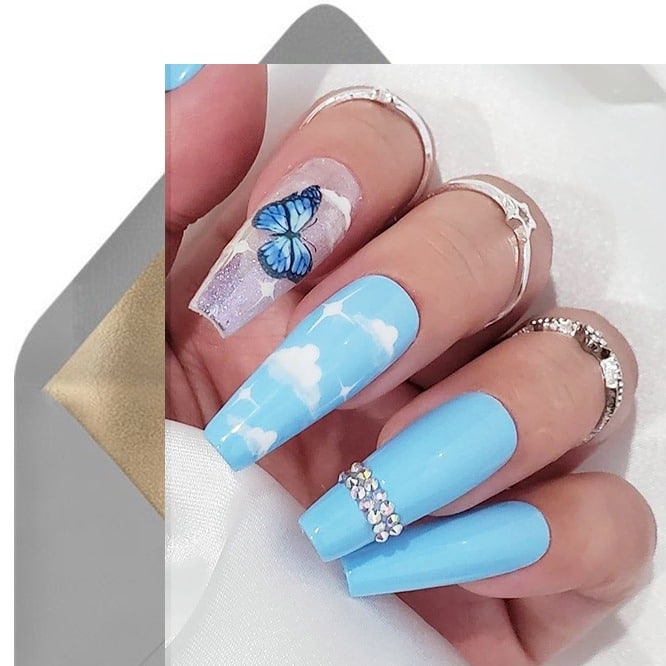 Butterfly and Cloud Nails
How adorable are these blue butterfly-themed nails? A neutral base might benefit from the color and artwork that butterflies bring. Even better, this works for a monsoon easy nail art design too when wearing a cooler color like blue. The wonderful thing about butterfly nails is that almost every picture is quite impressive because of how intricately detailed butterflies are. Such a sweet way to add another artwork to your nails without overdoing it is with these pastel clouds. And even if they seem really difficult, creating them will be more simple than it appears with some tiny nail brushes and nail polish. Rather than displaying both sets of wings, this tiny blue butterfly simply displays its sides. Additionally, painting just one nail with your design is a wonderfully cute accent to a neutral mani if you simply lack the time to paint all ten of your nails.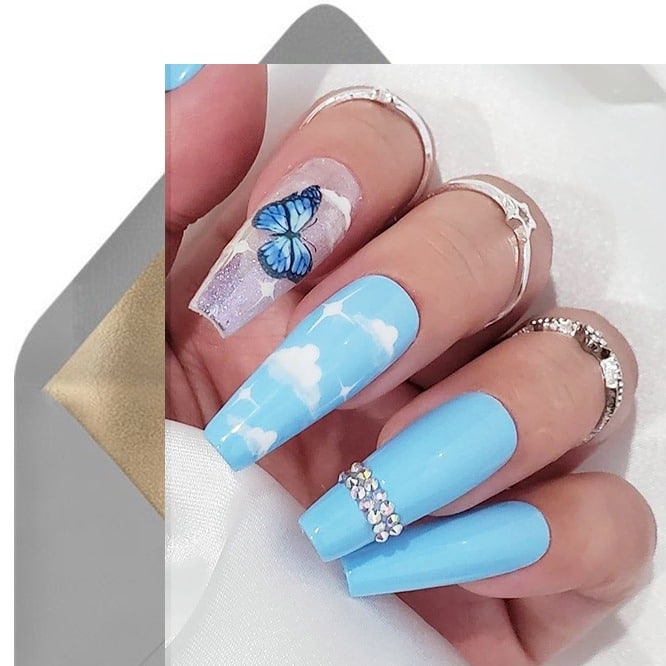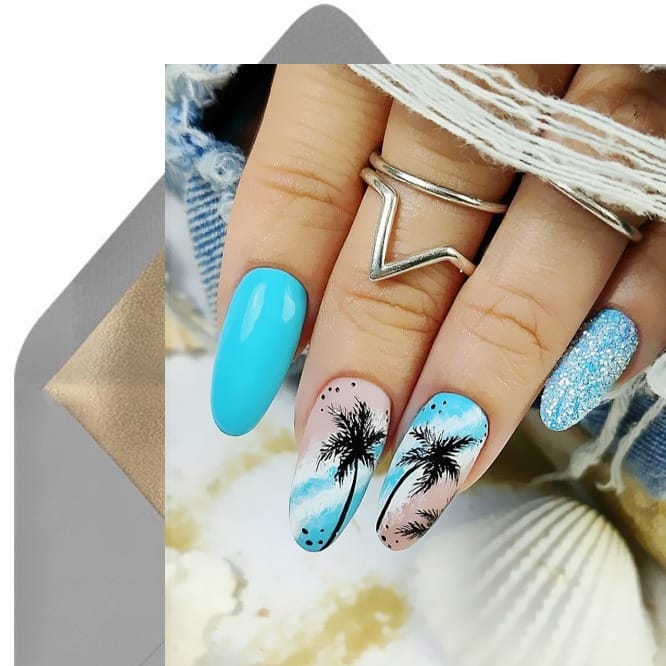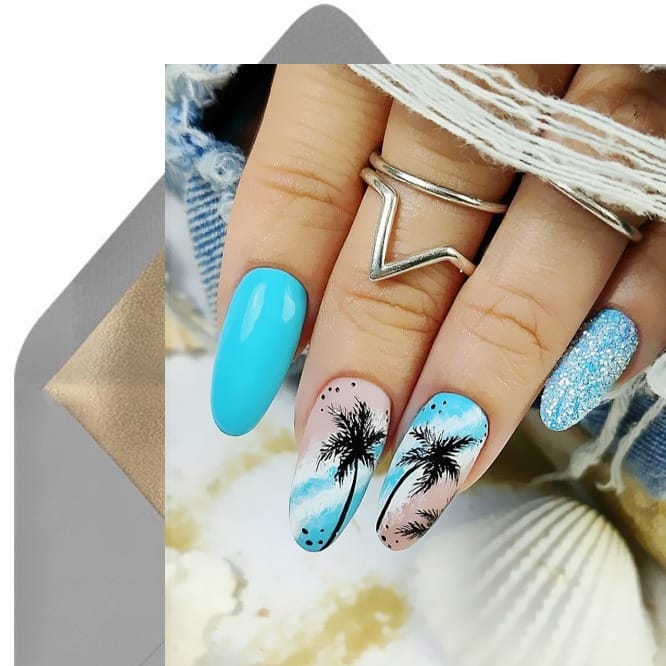 Seashore Tree Themed Nails
This design is intricate yet simple to look at since it features an alternating pattern of blue glittering nails and black-tinted coffin nails with silver and tree designs on two of the five center patterns as decorations. This manicure design can be the ideal set of charming, artistic nails for you if you enjoy going all out! These tree-themed nails will give you a fresh feeling like a cool wind in the monsoon season. They will complement your beachside style or a party by the shore. This uniform design, which incorporates a reflective blue nail polish and thin black scales painted as a coconut tree, is stunning and goes with any contemporary vibe you're going for. This easy nail art design screams space travel and alien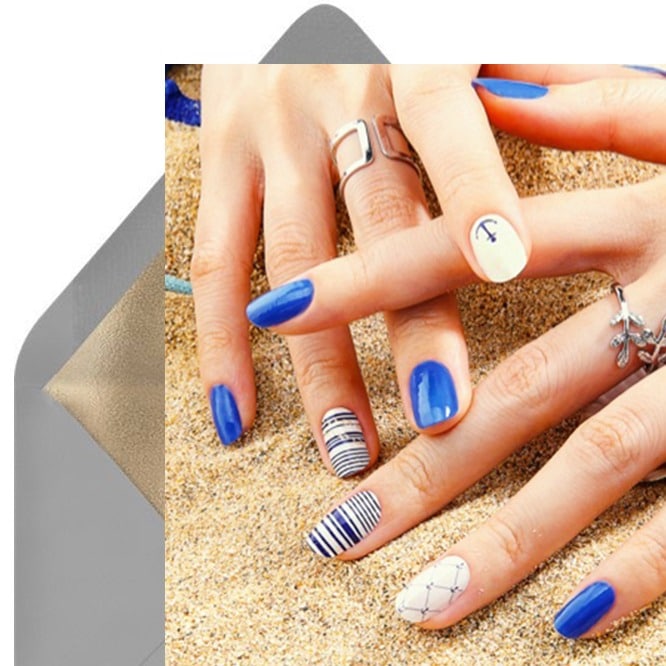 Beach Side Nails
When it comes to nails, texture is currently all the rage. Sandy nails are the way to go; forget about the felt nails that many were attempting to implement a few months ago. The monsoon season is perfectly depicted in this manicure design. These lengthier nails offer plenty of area for ornamentation and artistic freedom. They are embellished with numerous seashell-themed stones, including different form pearls, stars, and brilliant, glittering balls. The middle finger of this manicure design, which has a black and white outline with a gold accent on another nail, will instantly brighten the gloomy days of the season.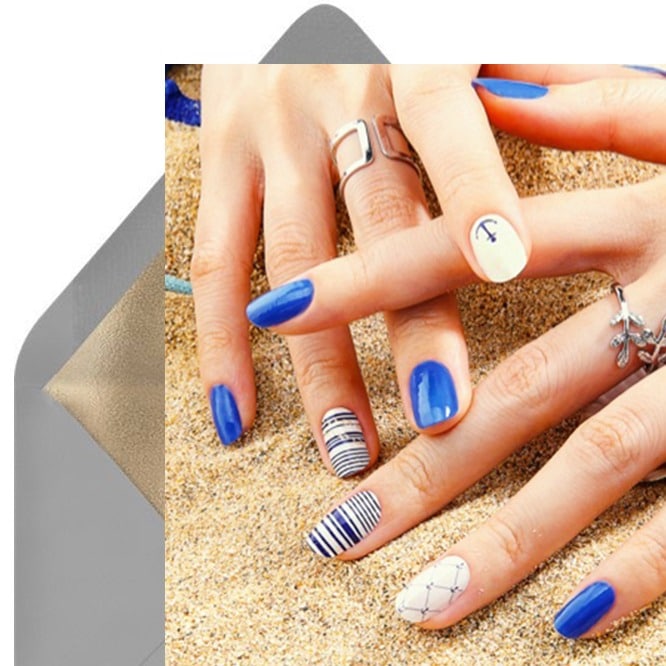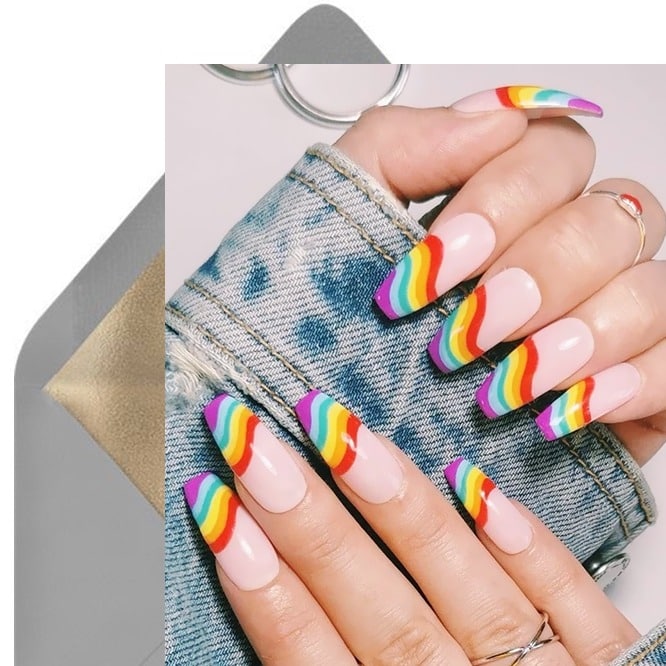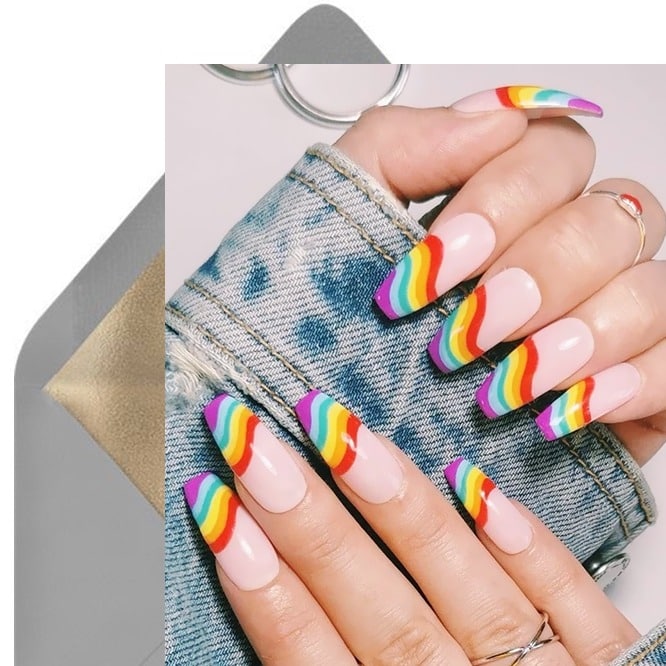 Rainbow Nails
It's time to embrace rainbow nail art if you're searching for a fun way to inject some colour into your life. It is one of the hottest trends for a reason—it gives your fingernails a lively, vibrant appearance. It is a wonderful method to express yourself and exhibit your uniqueness by experimenting with different colors and styles. Because there are so many diverse ways to interpret this artwork, you can choose an interpretation that speaks to you. You can choose to paint just the tips of your nails or paint them in a variety of pastel hues if you prefer a more understated and modest appearance. The beautiful thing about this is that you can choose an outfit that suits your sense of style thanks to the trend's adaptability. A lovely option that creates intriguing space is rainbow nail art.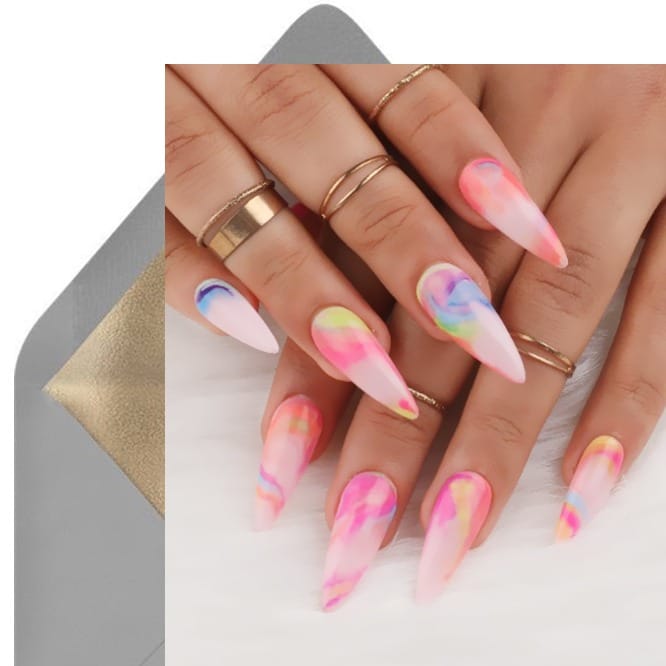 Watercolor Nail Art 
The watercolor effect is the ideal nail design if you're seeking for something new for your next manicure. The pattern imitates the way paint blends and dries on a canvas; this, together with the vibrant hues, makes it a feminine and enjoyable choice. If you want to do this design quickly and easily, choose nail stickers. However, if you're a woman who prefers to experiment with her favorite lacquers, choose a base coat and let it dry first. Once the white polish has dried, add another layer, and use a paintbrush to apply your chosen colors. Repeat the technique with a different color after dipping your brush in acetone and the selected lacquer after each shade.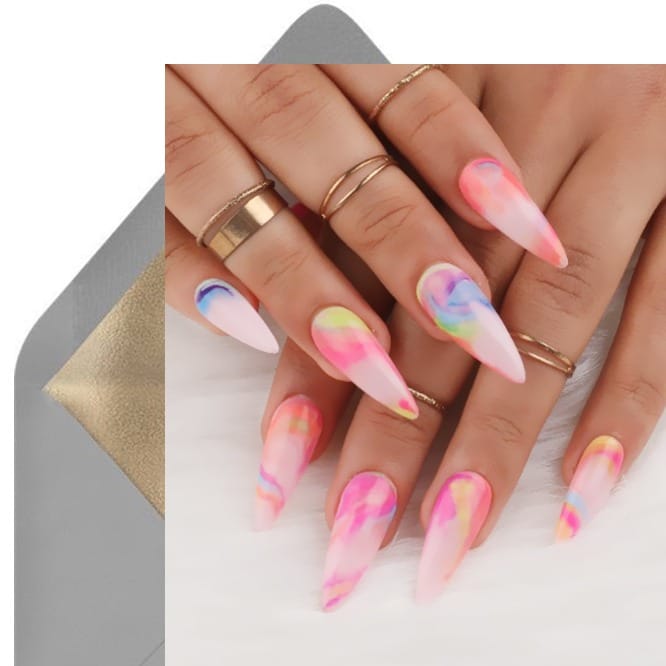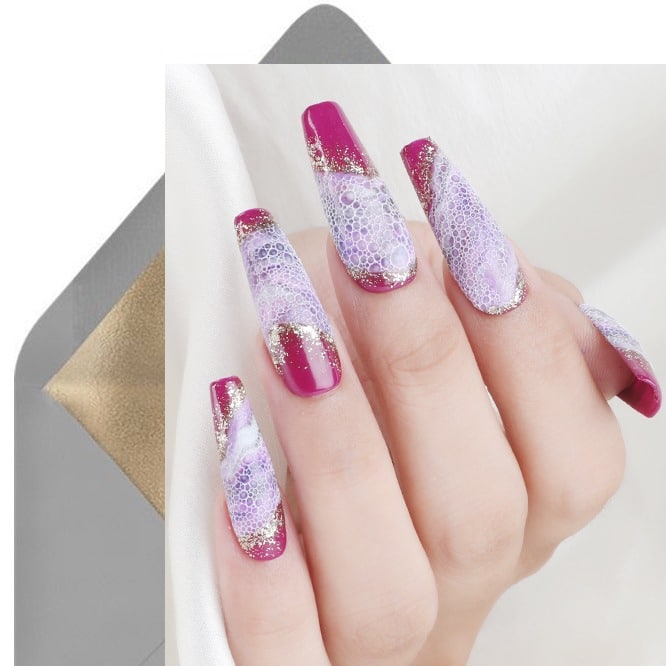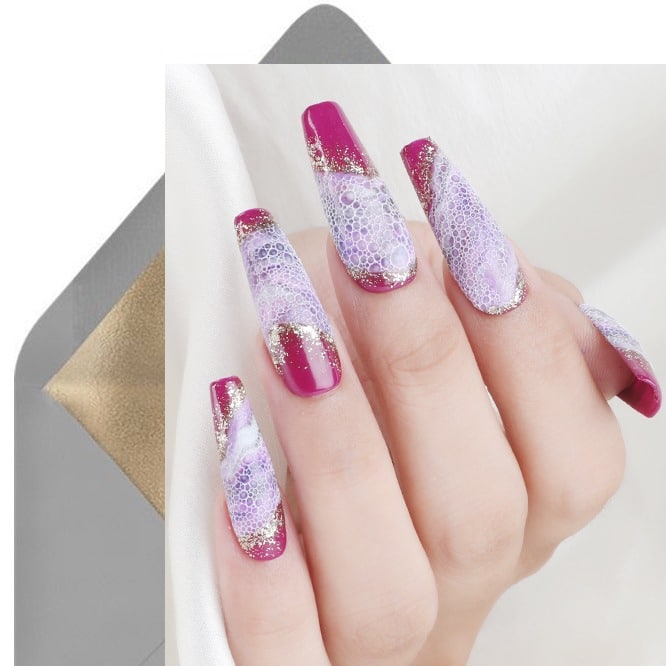 Bubble Foam Nail Art
This rainy season is best described as bubble foam. Add some adorable bubble foam clouds to the gray background of your nails to give them a monsoon-inspired look. Use maroon red on the other nails to give your nail art a unique touch. The wonderful thing about having maroon nails is that they can act as a constant reminder to see the positive side of things. We constantly see our hands, so why not give them a manicure that reflects your character and originality. The most inventive and artistic aspect to display during this monsoon season is bubble foam nail art.
Stop waiting and merely daydreaming about these nail art designs. Simply log on to https://www.glamnails.in/ to order everything you need, and it will be delivered right to your door. The whole line of professional products from GLAM for nails includes nail polishes, gel polishes, lacquers, treatments, finishing products, products for manicures and pedicures, files, equipment, acrylics, etc. and it is also best nail art shop in Mumbai. We are biggest wholesale nail polish suppliers and as well as wholesale nail salon suppliers.