The manicures we got in the middle of the month for all of our holiday parties have seen better days by the time New Year's Eve arrives. We've either become tired of the style we've been staring at for two weeks, they're chipping, fully gone, or all three. So what should a girl do? Since the holiday season is still in full swing, having one final festive manicure is the way to go before beginning the new year with highly efficient Glam Nail Products.
This is your moment to go all out when it comes to glitter and the colors we have been adoring all year, whether you prefer to spend New Year's Eve on the couch with friends and family or you like to dance the night away until the clock strikes midnight. Here are some nail design ideas for 2023.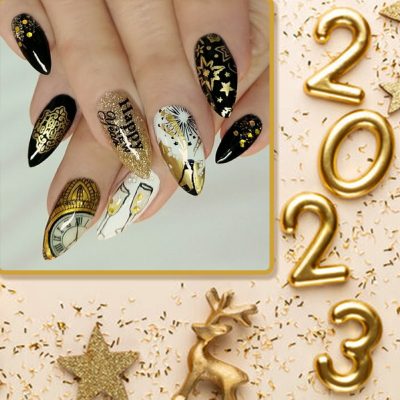 Toasting Glasses & New Year Sparkles
Although each nail in this collection is a little bit unique, we must admit that our favorite sound is the Champagne glasses clinking. We wish you the best and brightest new year, whether you turn your fingers into a champagne glass at midnight (you'll see what we mean below) or just wrap your nails around the glass. You're certain to have the sparkiest, most spectacular year yet with nails this good. This entire nail art creation is well complemented by the colors Black, White, and Golden.
Clock Charms New Year Nails
Celebrate the start of the New Year with ultra-dramatic nails in the perfect shades for a night out on the town: brilliant blue and glittering gold clock charms. especially if you are wearing these stunning golden clock charms on your fingertips. Just keep in mind that this design requires some patience because it requires several nail jewels to produce the desired appearance. The addition of the clock design enhances the aesthetic, and this nail design demonstrates how quickly 2023 is approaching.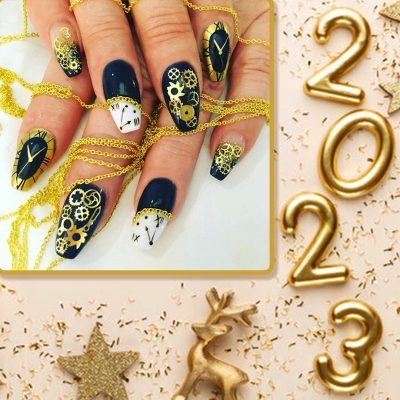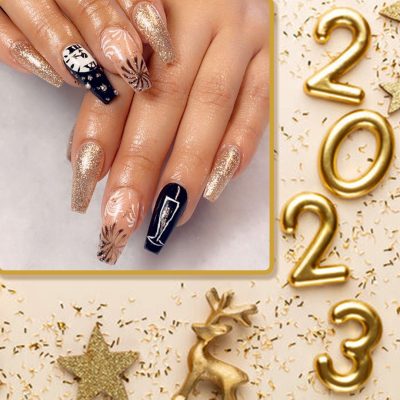 Dark Navy Blue and Gold Glitter Nail Art
Look no farther if you're seeking for something more understated yet highly attractive and fashionable! This nail art features touches of glitter gold and black polish a fantastic method to highlight your nails without going over the top. This set appears to have been literally covered in gold, and that is the spirit we want to carry into 2023. Some of the nails in this nail art design have black polish on the tips with Champagne glass, giving the impression that they have been dipped in timeless beauty and contemporary charm.
It's time that cat-eye nails may have their big moment. This stunning trend is created by painting a metallic, diagonal line across the nail in a variety of deep jewel tones, giving the impression that you are looking directly into a cat's eyes. This particular look incorporates the cat-eye combined with the silvery color presentation on other nails and a base of blue cat eye lacquer. The nail piece is made more more exciting by the glittering star pattern, which makes it ideal for entering in 2023.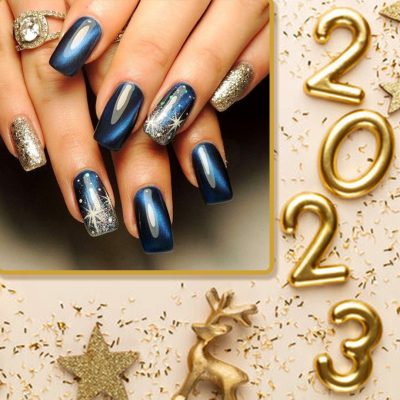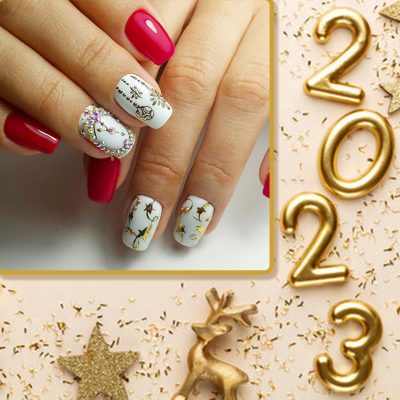 Classic red is the color that best symbolizes the holidays. It's the finest nail polish for glitzing up any outfit you want to wear. Before the new year, visit the salon to get a variation of this cute look that you can wear till starting of new year. If you look closely, you can notice that the hanging New Year Eve ornaments that appear to be the gold stars and traditional crystals  that represent the year 2023. Chrome has been used to create the golden color and designs, and it brilliantly glows through this nail art masterpiece.
Golden Clock and Burgundy Nails
Prepare for the New Year by wearing nails that have a round shape along with clock faces and cogs. In addition to being timeless, burgundy nails have recently been in style. Dark nail art would undoubtedly stand out and enhance the overall appearance. These nails are a go-to classic that are also very festive. They can always be made even more exciting by adding some bedazzling to the base. Burgundy nail art with gold and clock decorations is the perfect way to begin 2023 positively.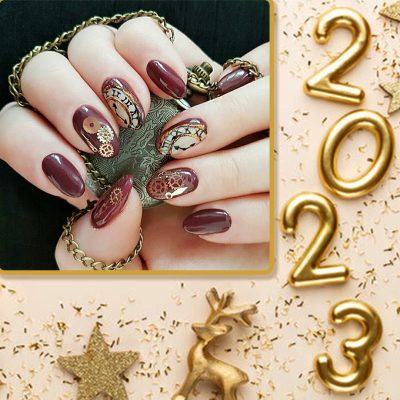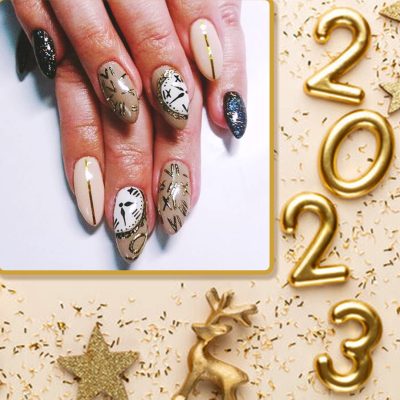 Countdown to new year nails
Since we started tracking the development of nail art, the fashion for designs has changed. Since your art aesthetic is personal and subjective, there isn't a single color or pattern that is definitively in or out but Countdown to the New Year with Clock nail art is a cute style that is expected to be quite popular in the upcoming year. The glittering design of the clock charms and the beige and nude base look great for ringing in 2023 in glitter and flair.
For having these charming designs on your fingertips you can log on to https://www.glamnails.in/ and acquire all the right products and tools to create those extraordinary nail pieces. GLAM is the best nail place in Mumbai. We are wholesale nail salon suppliers for all the nail lovers out there. GLAM offers nail products offering a full line of professional items including nail polishes, gel polishes, nail lacquers, nail treatments, finishing products, manicure and pedicure products, files, tools, acrylics etc.